Click on the download icon above, to download Traktor Digger to your phone!
You can also follow us on Facebook
Traktor Digger is the first tractor game for Android where you can control different tractors to dig for things! With over 6 MILLION downloads worldwide, it is also one of the most popular tractor games ever! Your objective is to master the controls of your tractor in order to retrieve the gold nugget and deliver it to the truck in the shortest amount of time!

Over 30 levels!
3 tractors and trucks!
Realistic physics-based environment!
Progressively challenging levels!
Available on Android!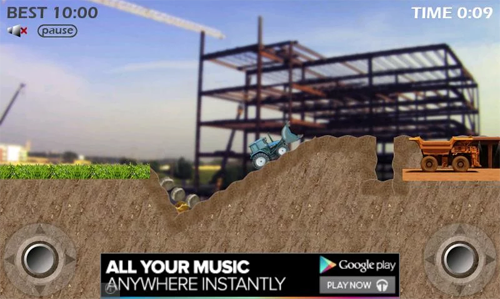 The Loader Tractor provides the easiest way to pick up objects, via its front mounted shovel. The shovel has 200 degrees of freedom, and can move all the way from the right-side, overhead to the left-side. However, the shovel cannot reach as high or low as the Excavator Tractor shovel. The Loader Tractor is the only tractor that can move objects from one side to the other.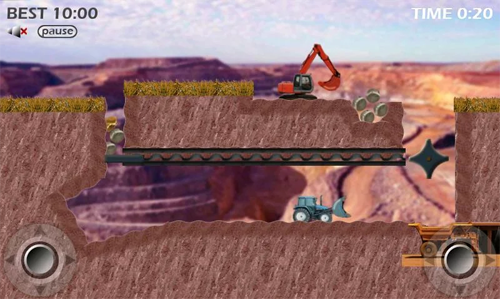 The Excavator Tractor can reach objects that are located very high or very low. The shovel has 180 degrees of freedom, and can move from straight vertical downwards, to straight vertical upwards. However, the Excavator Tractor cannot grab any objects that sit on the left of the tractor.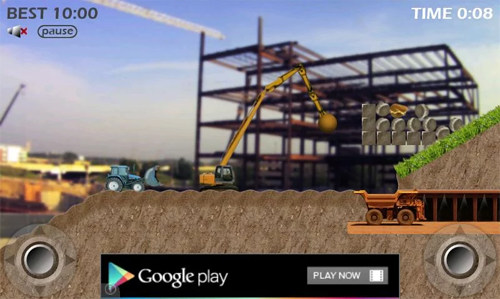 The Wrecker Tractor swings a powerful wrecking ball, to bust up concrete walls and concrete blocks. However, Wrecker Tractor cannot pick up objects, that task is left to the other tractors.
Traktor Digger is a trademark of Kurius Games, LLC
The Traktor Digger game is wholly owned by Kurius Games, LLC